Literary fiction
Woman No. 17
Quick take
Lepucki anchors this wild ride with keen observations and sympathy for her unmoored creations'"it's the kind of book you'll find yourself underlining.
Synopsis
A sinister, sexy noir about art, motherhood, and the intensity of female friendships, set in the posh hills above Los Angeles, from the bestselling author of _California_.
High in the Hollywood Hills, writer Lady Daniels has decided to take a break from her husband. Left alone with her children, she's going to need a hand taking care of her young son if she's ever going to finish her memoir. In response to a Craigslist ad, S arrives, a magnetic young artist who will live in the secluded guest house out back, care for Lady's toddler, Devin, and keep a watchful eye on her older, teenage son, Seth. S performs her day job beautifully, quickly drawing the entire family into her orbit, and becoming a confidante for Lady.
But in the heat of the summer, S's connection to Lady's older son takes a disturbing, and possibly destructive, turn. And as Lady and S move closer to one another, the glossy veneer of Lady's privileged life begins to crack, threatening to expose old secrets that she has been keeping from her family...
Darkly comic, twisty and tense, this mesmerizing new novel defies expectation and proves Edan Lepucki to be one of the most talented and exciting voices of her generation.
Woman No. 17
From chapter one:
It was summer. The heat had arrived harsh and bright, bleaching the sidewalks and choking the flowers before they had a chance to wilt. The freeways shimmered, any hotter and they might crack, might explode, and the poor cars would confetti into the air. People were complaining, they were moving slowly. They were swarming the beaches like tiny bugs upon the backs of dead animals. I preferred to stay at home: ice cubes in the dog bowl, Riesling in the freezer. The air conditioner was broken. I had taken to sitting in the living room with the curtains drawn, my body edged with sweat like frosting on a cake, daring to see how hot it could get. I ate salad for dinner every night and had almost checked myself and the boys into a hotel. I'd refrained because of the babysitter search. What would applicants think if I requested they meet me poolside at the Roosevelt?
Instead I waited. It didn't take long for the job hunters to come calling.
The doorbell rang eight minutes ahead of schedule and I jumped. This was the first interview. I'd been fluffing and re-fluffing the couch pillows, adjusting my ponytail.
When I opened the front door, a gust of gritty air came rushing at me and I felt its particulates dirtying my lungs. A young woman stood on the welcome mat, smiling so wide I could see where her gums webbed into her mouth.
I'd expected her to be pretty, almost all young women in L.A. are, especially those raised here, the beauty's in the tap water, but she was plain-looking, her wide, hazel eyes too far apart, her dark blond hair thin and flat.
Why I love it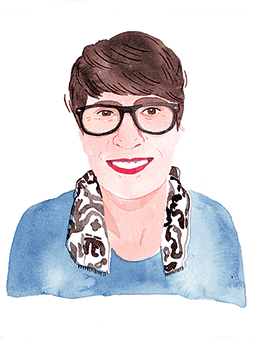 Kim Hubbard
People Magazine
Some books pull you in from the very first sentence; this one had me at the dedication. It reads: 'œTo my mother, who always says, 'If you're bored, read a book.'' My mother said that too! (She also said, 'œI've never been bored in my life,' which was less helpful. So blamey! Like her head was a wonderland and mine must be empty inside!)
Sorry. Where was I?
Mother issues. We all have them. This wickedly entertaining novel showcases some especially dysfunctional examples of that first, most primal bond.
Woman No. 17 is the story of two women, each a bit deranged from mama drama, who come together and form a most unlikely (and destructive) friendship over the course of a scorching summer in the Hollywood Hills.
Lady Daniels is no longer speaking to her neglectful mother, even as Lady is busy raising a toddler and looking after her older son Seth, now 18, who mysteriously (and guilt-inducingly) doesn't speak at all. Lady's an impulsive woman: after kicking out her devoted second husband, she advertises for a nanny and'"without so much as asking for a reference'"hires the first young woman who comes to the door.
As it turns out, Lady's new hire'"'œS' (short for Esther)'"may not be the most dependable employee. Unbeknownst to Lady, S is working through feelings about her own tough mother by adopting her characteristics: no makeup, blunt talk, binge-drinking and all. It's performance art at its weirdest, and the chapters of Woman No 17 narrated by S are filled with both wonder and foreboding.
Both deliciously complicated women attempt to repair the damage of their upbringings even as their lives spiral further and further out of control. Lepucki anchors Lady and S's wild ride with keen observations and sympathy for her unmoored creations'"their humanity shines through even in their most unhinged moments. Astute, nuanced, and sometimes laugh-out-loud funny, Woman No. 17 is the kind of book you'll find yourself underlining, and it will stay with you long after you put it down.
Member ratings (1,691)
Bremerton, WA

As the perspectives jumped back and forth I felt myself changing sides as well; both Lady and S my bestie. I fell in love with this book and with every character in it...except Kit, Kit was the worst.

Chicago, IL

Ironic that I read this on Mother's Day. Very perceptive treatment of mother/daughter/child relationships. There were so many lines that I read and then reread because they were so true. Great read!

Williamsport, PA

The synopsis of this book didn't give much info, and after reading it I don't think I could give a better synopsis. Two train wrecked females lives intersect and an even weirder story happens. GREAT!!

Tucson, AZ

This, for me, was one of those books that you can't walk away from or put down. Loved the characters and their crazy lives/nuanced situations. This was an extremely enjoyable (if sometimes dark) read.

East Middlebury, VT

This book was rich and luxurious to read. It transports you to Los Angeles and into the minds of the complex characters Lady and S. 17 highlights issues such as motherhood, first loves, desire, etc.